Free download Discord and install
Discord is a voice and text chat service that allows you to communicate with your friends and create groups of interest on the most varied topics. The tool became popular among the gamer public, becoming practically unanimous when it comes to communication, and you can download Discord for free and use it for whatever you prefer.
Free download Discord for Android, iOS Windows, Mac OS, Linux and the Web, the service offers various tools for you to bring your friends and contacts together in a more functional way. If you need a tool to communicate with your friends while gaming, Discord might be just what you're looking for.
Free download Discord 👇
What is Discord?
As mentioned, Discord is nothing more than an online voice and text chat service with some tools to create groups of interest in a more functional way. As in a social network, each group can have administrators and moderators, who in turn must be in charge of organizing the discussions.
The service can be accessed through an application for Windows, Linux and Mac OS and Android systems, as well as through a web platform that can be accessed directly through the browser. In both access modes, users have access to the same resources.
The first step in using the service is to access their website or download the app directly to your device. Once the download is complete, you must create an account.
To create a Discord account you can use a contact email or even your phone number, creating a username and password for your profile. After creating your account, you can add your friends and of course create or server groups.
How to download and install Discord?
Discord is available here on DownloadStorm, making it easy for users to download the app. Follow the steps below to download the software on your device.
Click "Download"and you will be sent to the official Discord site. press the "Download" button.
When the confirmation box appeared, click "save" and the software will start downloading.
After this process, locate in the downloads folder and double click the file to start the installation.
Select the language and click "OK" to continue with the installation. On the next screens, do the same procedure and wait for the software to install.
When you get to the end, click "Finish" to open the program.
Now you can discuss the most varied topics with your friends and colleagues.
How to use or Discord?
To use Discord on your PC, you will need a credential. So, go to the software website (https://discord.com) and click "Enter" on the top right corner. On the new screen, select "Sign Up" and enter all the requested information.
Once registration is complete, open the app on your computer and enter your username and password. At this point, you will be able to create servers or join your friends' servers.
On the home page, you will see three icons at the bottom right of your screen, a microphone, a headset, and a gear. Whenever you want to turn your audio on or off, no matter what server you're on, click on the microphone.
The button on the headset is used to mute and mute your friends. Finally, the definitions icon gives the user the possibility to make various settings in their account and/or in the functions of the application.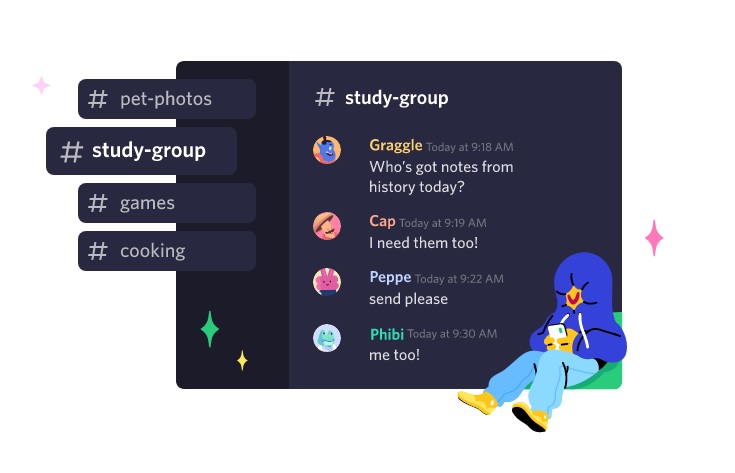 How to create a Discord account
When downloading to your computer, you will be presented with two options: one to log in to your account, for users who are already registered, and another to make a new registration. Choose the second option.
Once this is done, a new screen shows some fields that must be completed: email, username to use on the platform, a strong password and the date of birth, all very simple and quick to do.

After that, just click the confirm button and voila! Your account is now fully created and you can enjoy the many benefits of Discord.
An interesting point to make is to check your email inbox for confirmation fines only. It is an essential step, since it validates your account and only then will it be truly available.
How to create servers on Discord?
To create Discord servers, look for the "+" symbol on the right side of your computer screen. By clicking on it, you can choose a template or create your own server. After making your decision, follow all the steps below, filling in the information requested, such as name and photo. At the end, select "Create" so your first server is ready to use.
You will automatically be taken to your server's chat, where the options "Invite your friends" and "Customize your server with an icon" will already be available.
When everyone is available for audio chat, simply click "General" under "Voice Channels" so you can hear everyone in the room.
How to create rooms on Discord?
A room or server on Discord allows you to gather a group of contacts based on a common interest, for example: Baixaki fans. In the group you can add your contacts, as well as create invitations for other users to be part of your server.
To create a server, just access the "+" button on the left panel of the service, create a server, and then follow the step-by-step procedure to assign your pool data. When you complete the process, you will have a link that will allow other users to access your server.
What are the best features of Discord?
Discord has some features that may not be well known to its users. One of them is the possibility to lower or raise the individual volume of each participant on your server, a perfect function to control those whose microphone is lower or higher than the others.
On Discord you can also create your own shortcuts. To do this, go to the settings and click on "Keyboard shortcuts". You can assign different keys to activate specific functions in the app. Also, some default shortcuts are already enabled, such as "Shift+Esc" to mark all as read and "Ctrl+E" to show GIF and emoji options.
Download Discord 👇